Introducing: Mt. St. Helens Vietnam Band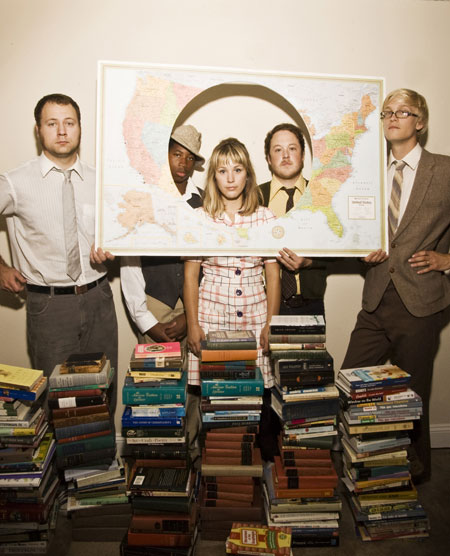 Mt. St. Helen's Vietnam Band might originate from Seattle, but listening to them, it quickly becomes obvious that their sound is firmly rooted in all things Canadian. Their self-titled album, due on March 9th via Dead Oceans, is like a checklist for a huge "whatever you can do I can do better" to the biggest and best Canadian bands of the past few years. From opener 'Who's Asking,' a song Spencer Krug probably wishes he wrote, through the  closer 'On The Collar' which channels Arcade Fire through some sort of awesome tube. It's a thoroughly enjoyable record from a band certainly destined for bigger things. We caught up with band members Traci, Benjamin, Matthew, Marshall and Jared answer our assortment of musically-related questions…
For people out there that have never heard of you. Give us three reasons why they should:
Traci: Marshall is a triumph of the human existence. We may bring them a great deal of joy. We'd like them to.
Can you recall the moment when you first decided you wanted to become a musician?
Traci: February 10, 2008
Benjamin: The age of 13 or so.
Matthew: 12 years old.
Marshall: 7.
Jared: Infancy
Where do your songs come from? What's your inspiration?
Traci: Our songs come from a lot of work, the conscious/sub-conscious, genetics, and some mystery of the universe. Our inspiration is our existence.
Name your Top 5 records.
Yes Close to the Edge
Talking Heads Fear of Music
Led Zeppelin III
Paul & Linda McCartney RAM
Sunny Day Real Estate How it Feels to Be Something On
What was the first gig you ever played and was it a success?
Traci: July 31, 2008 Seattle, WA – More of a success than we would have imagined! We dubbed it as our "world premiere" and promoted well. We almost sold it out.
What one piece of criticism has stuck in your mind and was it justified?
Traci: We have taken a bit of criticism for our promotion efforts. The criticism is justified if people don't care for promotion. Though we would say that it has won us much more praise than it has criticism.
What one thing has caused you to waste your free time in the past 6 months?
Traci: The Simpsons pinball machines.
If you weren't making music, what do you think you'd be doing?
Traci: Well, we still have day jobs at High-Schools, Restaurants, Adult Boarding Homes.
What's the worst job you've ever had?
Traci: Pizza parlor
Benjamin: Baker… Marshall has never had a job.
We'd like you to make us a mix-tape. Pick five tracks with a theme of your choice.
Theme: 2008 releases
Maps & Atlases: 'Witch'
Pattern is Movement: 'Trolley Friend'
Man Man: 'Top Drawer'
Fleet Foxes: 'Blue Ridge Mts.'
Gnarls Barkley: 'Surprise'
mp3:> Mt. St. Helen's Vietnam Band: 'Anchors Dropped'
Mt. St. Helen's Vietnam Band on MySpace