Oh! Canada 2011: A vintage year for Canadian music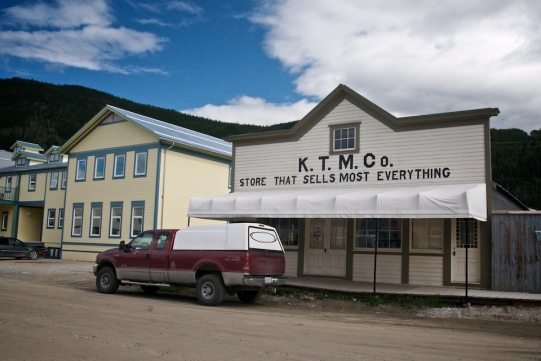 It's been a pretty great year all told for Canadian music – so many great records and performances, it is hard to recount them all in such a small space. As we did with last year's Oh! Canada round-up, we've decided to turn it over to some of the artists and writers we've spoken to over the year to have their say on what they felt was the best Canadian music to appear in 2011, and where possible we've linked so you can decide if you agree or not. As for us, we get to share our favourite records with you throughout the year via the Oh! Canada compilations – we only hope that we have helped to introduce you to some new favourites along the way.
But what does 2012 hold? We are already getting excited at the promise of new records from Vancouver's Apollo Ghosts and Toronto's Evening Hymns, both of which could turn heads this year. Add to that new releases from the likes of The Wooden Sky, and debuts from Doldrums, Silken Laumann and Cold Specks and 2012 seems to be shaping up quite nicely. And you can be sure the Oh! Canada compilations will keep coming to try and introduce you to more of the fantastic artists coming out of Canada in the new year. Keep your eyes peeled for more showcases, road-trips, interviews and features from Oh! Canada, which will be coming your way on The Line of Best Fit over the next few months.
Rich Aucoin
2011 was quite the year for Rich Aucoin – relentless touring took him across the globe, his hyper-energetic show leaving trails of confetti and smiles in its wake. From kids shows in Dawson City to Canada Day shows in front of several ambassadors, Aucoin knows how to put on a show. Letting his ambition run wild, his debut album dropped featuring over 500 guest artists. How else to celebrate than a launch show featuring almost 100 guests? Rich saw in the new year in Iceland, having been booked for their New Year's Eve show while he was still performing on stage at Iceland Airwaves. Well, we say on stage, it may well have been while he was crowd surfing… on his surfboard.

Canadian Album Of The Year:
Fucked Up- David Comes To Life. "Everything they do I have so much respect for- the music, the show, the videos, everything."
Canadian Record from 2011 that more people need to hear:
"Have you heard Futuresongs by Pat Jordache ? Just go and listen to it right now. There are so many interesting sonics going on all over what are essentially awesome pop songs."
Canadian Musical Highlight of the year:
"Sappyfest was a lot of fun- great bands, fun hangs… great atmosphere."
Canadian Band or Artist to watch out for in 2012:
"Goose Hut : from Montreal, Botnek- also from Montreal….theyre the next Crystal Castles…Born Gold will have some more awesome stuff. And Doldrums. And his brother, Moon King."
What 2012 holds for me:
"Play even more than I did in 2011. Ring in the New Year in Iceland, then cross Canada, the US, Australia, SXSW, then over to England in the spring."
Tony Dekker (Great Lake Swimmers)
2011 saw Tony Dekker of Great Lake Swimmers hard at work on the band's new album which should see the light of day in 2012. He also participated in the National Parks Project, heading out to Cape Breton with Old Man Luedeke and Daniel Gusendheit of Snowblink for a number of days to write and record songs influenced by the surroundings. Dekker is taking the music in the wilderness theme one step further this year, as he embarked on a two week tour of Antarctica on December 27th alongside students, scientists and journalists on an environmental trip. You can follow the trip's progress here.
Canadian Album of The Year:
"Esmerine – La Lechuza"
Canadian Record from 2011 that more people need to hear:
"The Burning Hell – Flux Capacitor"
Canadian Musical Highlight of the Year:
"The Lawnya Vawnya festival in St. John's, Newfoundland. Specifically, the set by The Kindness Killers."
Canadian Band or Artists to watch out for in 2012:
"Snowblink."
What 2012 holds for me:
"The new Great Lake Swimmers record will be released in Spring 2012. Touring to follow!"
Mark Andrew Hamilton (Woodpigeon)
Mark Andrew Hamilton is another Canadian artist who had a very busy year. Like Toy Dekker, Mark also took part in the National Parks Project, teaming up with Roly Pemberton (Cadence Weapon), Laura Barrett and Paul Aucoin, went on tour with Junip, played with (and as part of) The Hidden Cameras anniversary show at the Barbican and relocated from Canada to Vienna for love (as the forthcoming For Paulo EP attests).
Canadian Album of The Year:
"I'm not too into the idea of proclaiming something best for an entire year, as there's lots of stuff which has made me swoon over the past 12 months. Today though, Ohbijou's Metal Meets came up on random on my iPod (specifically the song 'Anser'), and completely reminded me how amazing these guys can be. So right now, based on the experience of listening to 'Anser' on my way to class, I'm going to give it to Ohbijou. (While also thinking of Chad Van Gaalen's Diaper Island and Kris Ellestad's No Man is Land). I also listen to Feist's Metals a lot too, andonandonandon…"
Canadian Record from 2011 that more people need to hear:
"No Man is Land by Kris Ellestad. The guy's one of the best living songwriters and this album is like a crash course in how to compose a song, mess with it, and still come out the other end with melodies and lines that will stick with you forever. Somehow, he's still without a label or a following befitting his talent. I'd love it if the next time I was wandering about on my daily errands humming one of his songs, someone on the street would join in and harmonize."
Canadian Musical Highlight of the Year:
"I'm not entirely sure what this refers to, but I was pretty damn excited when Braids was shortlisted for the Polaris Prize. Give them 3 years and they'll win it, I'm sure. (Or maybe even just 2)."
Canadian Band or Artists to watch out for in 2012:
"I have the feeling Laura Leif is going to surprise us all with some amazing stuff in 2012. There's an EP that's absolutely amazing (and I'm not saying that just because I was lucky enough to get to play on it). Some sweet stuff is already up for free at her bandcamp… What I've heard of that Hidden Words album is also pretty sweet as well."
What 2012 holds for Woodpigeon:
"The 24 January 2012 brings a new 6-track EP entitled For Paolo . Later in the year, there's a new album that I'm very excited about getting out there called Thumbtacks + Glue. Quite different from the old Woodpigeon… Exciting times!"
Mike Feurstack (Snailhouse)
Michael Feurstack produced one of our favourite albums of 2011 in the shape of Sentimental Gentleman, a work which saw him and his band, for the most part, record straight from the floor. It's a pretty direct modus operandi, and the songs truly shine as a result. It's the kind of record you know you are going to listen to for years, maybe even decades to come, with lyrics and melodies that stick in the mind for weeks afterwards. We were delighted to have the band headline The Line of Best Fit/ Oh! Canada show at Halifax Pop Explosion. He also introduced us to the sport of wallball, for which we are truly thankful.
Canadian Album Of The Year:
"Dan Romano's Sleep Beneath the Willow. This was hard to think up, but I have to say this is probably the one I found myself listening to the most, alongside Who's Breathing? by Ryan Driver, Destroyer's Kaputt and Too Beautiful to Work by The Luyas."
Canadian Record from 2011 I think more people need to hear:
"Old Believer released 2 songs – digital only. I love the songs, but they are way under the radar at the moment. He works at a slow pace, but we can enjoy these for now. It's free at their Bandcamp now. This would make an amazing 7″, so show some love so maybe it'll get pressed one day."
Canadian Musical Highlight of the year:
"Watching The Luyas get busy and win the old fashioned way."
Canadian Band to watch out for in 2012:
"Paper Beat Scissors. I hope this isn't a conflict of interest because I was involved in producing the album. I saw my role mainly as cheerleader, that's why I feel it's ok to push it here. Tim writes beautifully weird songs, and performs them with a peerless intensity. Also, I am excited to hear a Mozart's Sister (Caila from Shapes and Sizes and Think About Life) record finally, sometime this year.
There is also a new, much overdue record from Great Aunt Ida, which rules."
What 2012 holds for me:
"More record(s) , more music, more shows, more rest, more cooking, more love all around."
Michael Barclay
The Line of Best Fit caught up with author Michael Barclay to mark the anniversary re-issue of his book Have Not Been The Same. He also put together the first of what promises to be a series of compilations with current artists covering classic Canadian songs of the 'Can-rock renaissance", roping in the likes of Kevin Drew, Richard Reed Parry (Arcade Fire), Little Scream and Snailhouse amongst others.
Canadian Album Of The Year:
"Feist, Metals. As successful as her last two records were, they were just the sound of Leslie Feist getting her feet wet before diving in deep with Metals. This is the sound of her getting her hands dirty, digging into bluesy grooves, setting up moments of delicacy and loveliness before yanking the carpet out from underneath. "When you comfort me / it doesn't give me comfort, actually," she sings, which is why Metals aims to challenge as much as it does to soothe."
Canadian Record from 2011 I think more people need to hear:
"Mark Davis, Eliminate the Toxins. This Edmonton songwriter writes almost exclusively in minor keys, always sounds like he's singing about the shadows of existence, and sounds like Brian Eno produced a record for Nick Cave backed by the Sadies. His pop hooks are impeccable, his folk songs are timeless, and the production is astounding. And yet Davis is a stranger even to his own countrymen, a fact that needs to change immediately."
Canadian Musical Highlight of the year:
"There were three musical stories that represent a watershed in Canadian music history. Even though the Grammys, Spin Magazine and Billboard Charts don't play into my definition of success, it's somewhat astounding to me that Arcade Fire won Album of the Year at the Grammys, that Fucked Up appeared on the cover of Spin Magazine and was named their #1 album of the year, and by December, four of Billboard's top five albums of the week were by Canadians (even if I'm not a fan of any of those four artists). All of this was unthinkable even five years ago."
Canadian Band to watch out for in 2012:
"Veda Hille is one of this country's most underrated songwriters and performers for the last 15 years, and her 2008 album This Riot Life proved that she's only getting better with age. She's working with the star Vancouver production team of Dave Carswell and John Collins (New Pornographers, Tegan and Sara) on her new album, and I'm expecting nothing less than amazing things."
What 2012 holds for me:
"Wondering if anyone will discover that Drake's career has been one long, elaborate Joaquin Phoenix-style hoax."
Airick Woodhead (Doldrums)
We first featured Doldrums as part of Oh! Canada 10 back in April 2010 when we fell in love with his track I'm Homesick Sitting Up Here In My Satellite, which was originally released on a limited edition VHS tape. Since then he's signed to No Pain In Pop, put out the Empire Sound EP, collaborated with Grimes and his spiralling technicolour remix of Portishead's Chase the Tear was released as a split single in aid of Amnesty International.
Canadian Album Of The Year:
"Slim Twig – A Sheik in Scores"

Canadian Record from 2011 I think more people need to hear
"Doldrums – Empire Sound"
Canadian Musical Highlight of the year
"That band The Tea Party reuniting basically because of media leverage from the American politcal movement."
Canadian Band to watch out for in 2012
"I have to pick one, eh? Moon King."
What 2012 holds for me
"A new album with my friends Dan and Apes called Phedre. I have a new album with my girlfriend called Dick Officer. And I have a beautiful-dark-twisted-fantasy of a Doldrums album gonna drop later in 2012. And we're all going to space via the internet.
So all that remains to say is a huge thank you to everyone that has read, listened, watched and helped to make Oh! Canada possible in 2011. Lets hope for the very best in 2012! Happy New Year everybody.