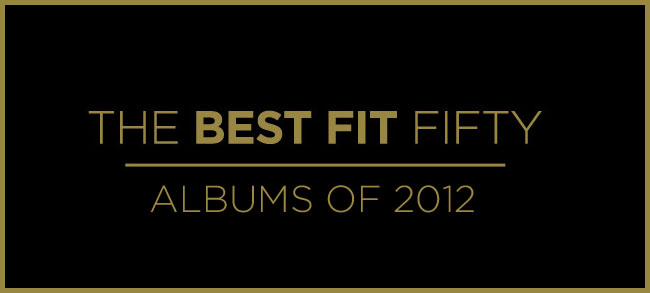 Let's make one thing clear from the outset: there'll be no Mayan jokes here.
The world isn't ending, but it is collapsing – a blisteringly chaotic process that has been thrown into very stark relief indeed this year. As the actors at the end of the world assumed their first positions we might have expected the soundtrack to take a turn for the doomy – and yet, if anything, 2012's albums have been characterised by a lunge at the light; a self-conscious attempt to ward off disaster with a smile, or at least to precede the apocalypse with a decent party.
Happily enough, the pre-obliteration festivity vibe has yielded some delightful records. Some of the finest albums of the year can be considered the fruit of the continuing disintegration of genre boundaries, with artists increasingly adept at mining sounds for nuggets to be redeployed. The culture is fragmenting, yes, but if there is a big tent into which these records all fit, it might broadly be labelled 'pop' – a heading that, for all its contradictions, seems particularly vital in 2012.
Here, then, you can find the fifty albums that defined Best Fit's year. Be quick though – if the Mayans are right, you've only got four days to listen.



Wintersleep – Hello Hum
There are some records you find yourself salivating over for months before their release date, and then there are some you stumble upon quite by chance. The fifth full length album from Canadian veterans Wintersleep definitely falls into the latter category, but whilst I'm not sure what draw me to Hello Hum in the first place, I'm damn sure of what made me stick around: eleven mournful, sincere, sentimental, indie tracks of the folk tinged variety that became more addictive than cigarettes for a while. Once in its arms, this is the kind of record you push to breaking point.
- Lauren Down


Cave Painting – Votive Life
A solid first effort from Brighton based Cave Painting. Bubbling beneath the anthemic hooks and rousing melodies scattered throughout Votive Life lies a rich canvas of sound with minute elements – which take a second play through or more to pick up on. Mixing fragments of more easily identifiable genres to form a woozy and unique potion, straying from the template of the done-to-death guitar-rock revival and alleviating some of the electronica pains; there's sincere emotion muddled in with the labyrinthine noises, making for a thoroughly enjoyable listen. Immerse yourself.
- Laurence Day 


Bill Fay – Life is People
Bill Fay made a majestic and eagerly awaited return in 2012 with Life In People, a collection of new songs and cover versions pitched Fay's voice, enriched by time, as one of the most overlooked voices in British music.
- Ray Honeybourne


Chromatics – Kill for Love
Chromatics may initially have appeared to be testing their fans' enthusiasm upon the release of Kill for Love, delivering not just a long album but one that also featured several extremely long individual tracks. The opener, a cover of Neil Young's 'Into the Black', threw another curveball for those simply expecting a collection of slick Italio-disco, the disjunct only heightened by the fact that – well – it worked. Brilliantly. This was, it turned out, a moreish, addictive treat of an album, equal parts slinky club delights and underlying melancholy. The title track was a euphoric, lysergic delight, while 'These Streets Will Never Look The Same' was a more downbeat, complex, yet no less pleasurable treat.  Throughout, Ruth Radelet's darkness-tinged vocals gave the collection its distinctive character, from yearning comedown to stylish ennui . Music to dance to then, certainly, but also to recover to on the day after the big night before, all regret and shadowy apprehension for what might have been said and done. This album is more than worth the hour and half of your time that it demands.
- Jude Clarke


WHY? – Mumps, etc
During the four year interval between the recordings of WHY?'s last two LPs and this new album, the aptly-named Mumps,etc, band member and chief confessionalist Yoni Wolf was struck down with several bouts of sicknesses, including, as you might gather from the album's very title, the mumps. The resulting record is an all-encompassing ode, lament and requiem to everything from life, love, sex, death and those little things that crop up in between. Littered everywhere within the album's entirety are songs of ageing and illness, from the aforementioned opener to 'Kevin's Cancer' and 'Strawberries', the latter a touching mourning for Yoni's own grandmother.
At the centre of it all, though, is Yoni's own mortality, as he pushes past thirty and holds a magnifying glass up to his own lfe. The record isn't the first of the group's back-catalogue to address ailing health, in just the name alone of 2008's Alopecia comes the lamenting of his receding locks. But this recent offering is the first where it all takes centre-stage. That isn't to say it's a record lacking in humour, a focal point once again is Yoni's signature sardonic verse, making light on the grave and providing one of the wittiest records of the year once again.
- Luke Morgan Britton



Sleep Party People – We Were Drifting on a Sad Song
Danish creator Brian Batz and his team of bunny masked maestros returned with a second album back in April of this year – a mesmerising collection of skeletal tales, hypnotic melodies and spine-tingling songs which proved to be an altogether more light and accomplished affair than the sounds found on the debut. A delicately enchanting effort,
We Were Drifting On A Sad Song
revels in binding the unmistakable childlike vocals of Batz with a richly woven backdrop that pristingly fuses the organic with the electronic. A compelling record, Batz's second full length has made sure that
Sleep Party People
's music will stick in our minds forever.
- Francine Gorman


Chad Valley – Young Hunger
After a series of well-received EPs, Chad Valley's first album proper seems less like a debut that you'd normally expect. Just taking a single glance at the tracklisting will reveal a whole host of collaborators amongst the record's credits. There's so many cameos on the album that the tracklist begins to appear like a mathematical worksheet, with x signs galore through the linear sleeve.
Where it works best are the tracks where the collaborators connect the dots between Hugo Manuel's own harmonies and their own, as is on lead single 'Fall 4 U', the unashamedly Spice Girls-aping 'My Girl' (featuring Fixers' Jack Goldstein) and the El Perro Del Mar-featuring 'Evening Surrender'. The strength of the record, however, rests with Chad Valley's own vocals and his ability to craft masterful pieces of electro-pop goodness.
- Luke Morgan Britton


Dirty Projectors – Swing Lo Magellan
Swing Lo Magellan's namesake, the Portuguese explorer Ferdinand Magellan was allegedly the first man to sail round the entire world (well, he popped his clogs a little short of the finish line, but we'll let him off). David Longstreth is at the helm here, propelled forward by fidgeting, unstable melodies that somehow sound entirely natural. Longstreth is such a dedicated songsmith that you just have to step back in sheer awe and hear every single harmony transform into colour. Dirty Projectors have created an album that is every bit as original as its predecessors, one that is also extremely accessible.
- El Hunt


Bat For Lashes – The Haunted Man
Such was the focus upon the aesthetics of Natasha Khan's third album that the music itself was forced into a supporting role: a terrible fate for a collection so consistently impressive. Sidestepping slightly from the fantasy environs and Grimm fairy tales of her earlier work in favour of a more personal lean, The Haunted Man still presents a glimpse into another place, where the moon hangs low and shadows dance upon snowy fields. These are pop songs that strive to move, whether through 'Laura''s sparing balladry or the twitching off-beat of 'Oh Yeah', from an album that reaffirms Bat For Lashes' central role a step apart.
- Christian Cottingham


Django Django – Django Django
"Booze, broads and barber-shop chords," is the mantra that led London based
Django Django
to create their much touted first album. A melting pot of electronic tones, tropical rhythms, hypnotic harmonies and soaring sequences, Django Django's self titled debut is a true force to be reckoned with, garnering a well deserved Mercury nod and pretty much universal critical acclaim. Each of the twelve tracks on the record resonates with excitement and vitality, all having been carefully strung together in order to capture every ounce of the light and vibrancy that this band represent.
- Francine Gorman

More from Best Fit