"We ended up making something a lot bigger and more complicated than we thought" : Best Fit meets The Walkmen
All the way back in 2002, The Walkmen wrote, recorded and released their debut album Everyone Who Pretended To Like Me Is Gone. It was an album which served to introduce the band – comprising members of two former groups, Jonathan Fire*eater and The Recoys – as a brand new, raw and thrilling musical proposition, The Walkmen. But it was their second record, 2004′s Bows and Arrows that truly brought the band to the attention of those elsewhere than the band's home of New York, as the driving beat of lead single 'The Rat' quickly and thoroughly infiltrated radio stations, music channels and CD collections in Europe and the US. Ten busy and fruitful years have passed since those early days, with the band releasing a further four albums and in this, their tenth anniversary year, unveiling the latest addition to their impressive back catalogue, the divinely titled Heaven.
"It does seem like a long time," reflects vocalist Hamilton Leithauser of the band's lifetime. "When you think back to ten years ago, that was a really long time ago. We were very different people, the band was very, very different back then. We were all in Harlem and we had this recording studio… It seems like thirty years ago! But when we did these tenth anniversary shows, for some reason, it just made us all feel legitimised. At first it was a little strange as it didn't seem like something to be celebrating, necessarily. But as I said, it felt legitimising and I think it helped us to finish the record. I don't know why, because it took ten years to get there and it was a very gradual process, but suddenly we were able to look back and think 'well, we did this! We got here, we're alive!' "
"Our whole life is different now. We used to all live in New York, we were all single guys in our early twenties and now we're all married with kids and live all over the country. When we got our start, we played around all the different clubs in New York once a week or twice a month or something. Now it's an international thing, where we don't really see each other much outside of touring because we see each other so much while we're touring. So it's very different."
Scattered all over the country, how do the band members go about their traditional collaborative writing process? "It's all done very individually which is always the way that's worked the best for us," Hamilton responds. "We used to try and get together and have band practice with us all in the same room, but looking back, nothing good ever came of that! Just a lot of stupid jamming for hours and hours, it was really just a waste of time. But writing now, it's very isolating, it can be really lonely and stuff, because it takes a year where you spend so may hours a week in your room by yourself. We email stuff back and forth, but honestly, we get stuff done much faster and I like the stuff we write better. It's made our actual output more productive, I think."
Following a few years of moderate success, the release of the group's sixth studio album Lisbon in 2010 would see the band once again thrust into the musical limelight, with lead single 'Angela Surf City' becoming an instant favourite of magazines, blogs and radio stations. The album peaked at #27 in the US charts, confirming not only that there continued to exist an excited and insatiable hunger for The Walkmen's driving, powerful brand of vintage rock, but also proving that the band had reached a stage where they could produce that style of music better than any other. Their follow up album, latest release Heaven was recorded near Seattle under the watchful eye of Phil Ek, a producer who's very well respected in his trade having worked alongside the likes of The Shins and Fleet Foxes, but one who's also widely regarded as a taskmaster.
"He was. He really was," Hamilton interjects quickly. "Kind of a pain in the ass too. He did a great job, but it was actually a pain in the ass! I suppose it was easier to make because we did keep a schedule and finish on time, but it was not a walk in the park making it, it was very tough."
"It was just the way that we play together," Hamilton elaborates, "the way we play a rhythm, all of the old habits that we'd fallen into – he started trying to change those. So it was really hard, because we've been playing in bands together for twenty years. This band has been going for ten years, but a lot of us were in bands together for ten years before that."
The hard work seems to have paid off, with Stereogum having already touted Heaven as the second best album of the year so far. "We wanted something a lot more dynamic and a lot richer than Lisbon," Hamilton goes on to explain, "and I think that's what we got. We worked with because he'd done all the Fleet Foxes records. He actually called us up and we'd just heard the new Fleet Foxes album and thought it sounded great, so we thought, let's give him a shot. We really wanted that rich sound and I think he brought a lot of that to our songwriting, and I think we also wrote songs that were a lot  more dynamic. I think we ended up making something a lot bigger and more complicated than we thought, but I like it a lot more actually."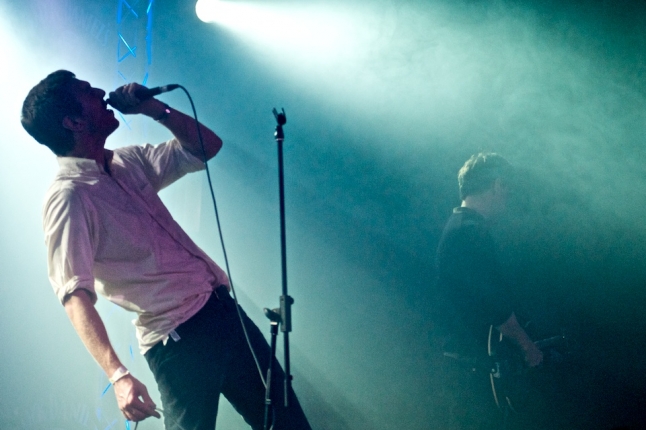 The Walkmen have always been a band who deal in intricacies. Melodically, rhythmically and lyrically, the five piece concentrate on creating texturally rich tracks with a bold, impressively powerful vocal and lyrics that play host to poetic nuances, stories of love, life and growing up. "Some of it was a conscious attempt to write very simple culture classic rock songs," Hamilton explains of the thread holding the tracks on the latest record so seamlessly together. "Like 'Heartbreaker' and 'Love is Luck' were attempts to be as simple as we possibly could and to write in a style that we liked. That was a big victory for us, because we can never seem to write something happy and not hate it right after we write it! So to have something that sounds happy, rock and roll with simple lyrics, and to actually like it was a big breakthrough for us. Then the other side of it I would say would be the songs 'We Can't Be Beat' and 'Heaven', which were the two last sets of lyrics that I wrote. I wrote those after we did those tenth anniversary shows, and they aimed to capture where we are as a band, a little statement of who we are."
A lot can change in ten years, especially when your line of business is popular music. Ten years ago, iTunes was just beginning to make ripples in the market. It was the year that Pop Idol was launched, and a year where illegal downloads were beginning to truly effect the inner workings of the music business, with Napster having been very publicly shut down the year before. So a decade later, seven albums and a fair few worldwide tours under their belts, is there a consensus that the music business is still a good place to be?
"Well, it's pretty hard to make a living," Hamilton replies. "You have to travel, and you sometimes have to do things like play events that you don't want to play. You have to sell your songs sometimes, and do things you don't really want to do. You don't really have an option anymore, anyone that wants to try and make a bit of money does stuff like that."
It may not have always been an easy ride for The Walkmen, but enduring passion, belief and an unparalleled way of combining vintage instruments and Hamilton's unique, soulful, rasping vocal have led the band to firmly mark their place in the world of music. Latest album Heaven is a fitting ode to all that the band and friends have seen, done and created, with each track brilliantly harnessing the sound and sentiments that the band have so skilfully honed throughout their career. Powerful, honest and eternally romantic, here's to another ten years of The Walkmen.
Heaven is available now through Bella Union who are currently streaming the album in its entirety at the Bella Union website, and the band can be caught at the following upcoming tour dates:
12 Jun – London – Village Underground (Sold Out)
19 Aug – Powys – Green Man Festival
27 Oct – Birmingham – Institute
28 Oct – Glasgow – ABC
29 Oct – Dublin – Vicar Street
30 Oct – Manchester – Ritz
01 Nov – London – Forum