To bring 2009 to a close, Oh! Canada has conducted a survey to discover some favourites, uncover a few hidden gems and give some tips as to what 2010 might have in store for the Canadian music scene. Some answers were short and sweet, some long and drawn out. Some struggled to name just one act, while others tipped themselves for success. So without further ado….here is the Oh! Canada survey for 2009.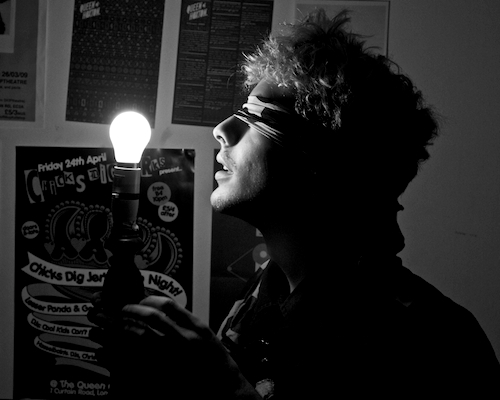 Spiral Beach
2009 saw Toronto's Spiral Beach release their album "The Only Really Thing", and tour the UK and Ireland. Their track "Cemetery" will feature on "Oh! Canada 7″
Canadian Album of the Year:
DD/MM/YYYY – Black Square
What record hasn't got the credit it deserved in 2009?
Probably DD/MM/YYYY again, but other than that, The Hidden Cameras – Origin: Orphan… It's definitely their best work.
Tip For 2010:
La Casa Muerte. In our opinion the best band in Toronto. They run a loft space called "Academy of Sciences" and put crazy shows on too. It's official.
Tyler, All Citizens
All Citizens is an artist run co-op in the rural town of Bruno, Saskatchewan. Situated next to the Senior Citizens centre there was only ever one suitable name for the shop. In June they hosted Julie Doiron, an event marked by the town declaring "Julie Doiron Day".
Canadian Album of the Year:
Julie Doiron I Can Wonder What You Did With Your Day. Over all we liked the guitar/drum/bass heavy edginess combined with Doiron's ever so lovely melodies and lyrics. There's a good reason we have a bench out front with her name on it!
What record hasn't got the credit it deserved in 2009?
Feral Children Currents, (2009, unsigned) hasn't got the credit it deserved in 2009. Feral Children (A.K.A. Ryan Scott Davidson) has a voice that sounds a little like a tripped out Colin Newman/Geddy Lee hybrid. All Citizens would like to give credit to Feral Children for producing a genre defying, unpredictable, electronic beat driven, guitar triggered, synth-textured, abstract, progressive, psychedelic rock album that the province of Saskatchewan can be proud of.
Tip for 2010:
Slow Down, Molasses. We like them for their sincere, indie-pop infused country ballads and anthems. Check out their new album, I'm An Old Believer.
James Bunton, Ohbijou
2009 was a busy one for James. As well as touring with Ohbijou, he was also part of putting together the "Friends In Bellwoods II" compilation, as well as plenty of production work including Evening Hymns and Loon Choir
Canadian Album of the Year:
There were so many great Canadian albums that came out this year. No doubt. As a result, had a bit of a hard time selecting just one favourite. In the end, I went with Attack In Black's Years (by One Thousand Fingertips). From the first time I put this album on, I was mesmerized by it. The songwriting combines both simplicity and interest in a way that feels so incredibly natural. The production of the album captures the essence of the band in a warm and clear way that allows for the songs to be translated cleanly but not in a sterile way. The album is wonderful. (A close second is definitely Spirit Guides by Evening Hymns, but I think that I might be a bit too close to that one for it to count!)
What record hasn't got the credit it deserved in 2009?
I think that The Wooden Sky's If I Don't Come Home You'll Know I'm Gone. The Wooden Sky boys have released an album that is classic in its alt-country roots, but full of massive guitars and memorable melodies, lyrics and stories, making it more than simply another alt-country album. It may be a matter of the word just not getting out there enough yet, but I think that we'll hear more and more about this album as time goes on.
Tip for 2010?
There are a three that readily come to mind, so I'm going to give all three. I hope that's okay!
1. Diamond Rings - He's already got a bit of attention behind him, but I think that John O'Regan is going to prove to people he's more than just a one-hit wonder with his next release. The songs he has are pop classics, and I think that we'll all be hearing more and more about him in the coming year.
2. Snowblink – Just amazing. They've been playing together for a while now, but for some reason have stayed below most radars. I think that in 2010, they'll find themselves being recognized by many as the incredible team that they are.
3. Kite Hill – This one's been a long time coming, but I think that in 2010 the debut album from Kite Hill is going to drop. And it's going to be wonderful. Kite Hill is Ryan Carley from Ohbijou's side project with members of Forest City Lovers, Ohbijou and more. Beautiful arrangements, paired with surprisingly accessible melodies make this release one to be excited about.
Paul Murphy, Postdata/ Wintersleep
Having just completed a 50 date European jaunt supporting Editors with Wintersleep, Paul will be touring the UK in support of Postdata's self titled album in late January
Canadian Album of the Year:
Contrived: Blank Blank Blank, Brian Borcherdt: Torches, Julie Fader has a very cool record out as well. I guess all these are Hand Dawn Dracula releases actually. I swear this isn't an advert!
What record hasn't got the credit it deserved in 2009?
Blank Blank Blank by Loel's and Mike's and Tim's and Jon's other band, Contrived. A really good mix for people who have always loved the darker, heavier Contrived and for people who might like things a bit poppier too.. Really nice recording.. Another record that I think deserves attention is Brian Borcherdt's new record, Torches.. pretty music.. Brian and I did a demo exchange of sorts on our last European tour and what I had ended up being the actual record.. I'm glad..
Tip for 2010:
Hmm.. Women are probably due for a record soon.. Their last record is awesome.. Dog Day?? I am not really all the hip to the scene these days.. I never really was but I guess those are my answers.. Arcade Fire are working on a new record, I bet it'll be good.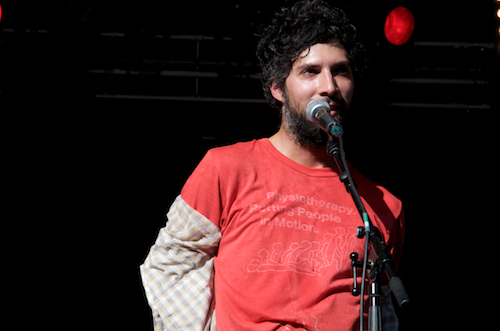 Rolf Klausener, The Acorn
2009 was a hectic one for The Acorn-playing shows with the likes of Bon Iver, Fleet Foxes and a tour with Elbow that saw them play Wembley. Then in the autumn it was back to the studio to record the follow up to Oh! Canada Fave "Glory Hope Mountain"
Canadian Album of the Year:
This is easy. I'm going to go with Canadian release dates if that's okay. A three-way tie between:
Andrew Vincent – Rotten Pear
Ohbijou – Beacons
Timber Timbre – s/t
What record hasn't got the credit it deserved in 2009?
Andrew Vincent – Rotten Pear
Tip for 2010
Most of these folks aren't new, just coming out with new material or tours:
Jim Bryson (ottawa)
Olenka & the Autumn Lovers (london, ontario)
Giant Hand (ottawa)
Plants & Animals (montreal)
Winchester Warm (ottawa)
Martha Johnson, Martha and the Muffins:
18 years after their last release, Canadian New Wave legends Martha and the Muffins will be releasing a new album "Delicate" in February.
Canadian Album of the Year:
Fantasies by Metric. They write and sing with a distinctive voice and that makes me believe this is a band still genuinely excited about expressing themselves through pop music. They do it for the music and I can relate well to that.
What record hasn't got the credit it deserved in 2009?
All of them.
Tip for 2010:
XXXX by You Say Party! We Say Die! I recently met Becky and Stephen of YSPWSD The band is enthusiatic and talented with catchy songs the world should hear.
Frank Yang, Chromewaves/ Polaris Judge
Frank has been a Polaris Prize juror since year zero and in 2008 was a grand juror. Chromewaves is one of the longest running, and most respected blogs in Canada.
Canadian Album of the Year:
Dan Mangan- Nice Nice, Very Nice
my personal year-end list had two Canuck entries and between this and the Evening Hymns record, I have to give the edge to Mangan's record. It's a marvelous piece of songwriting and arrangement that feels completely effortless.
What record hasn't got the credit it deserved in 2009:
Evening Hymns / Spirit Guides
And here I'll give props to the other Canadian album on my 2009 top ten. If the Evening Hymns record hasn't gotten the respect it should, it's just because it's been such a low-profile release but hopefully
it'll turn out to be a slow-burner and get the ears it deserves with time.
Tip for 2010:
The Balconies
Not too many outside of the Toronto-Ottawa corridor have heard this power trio yet but they're too good to remain unknown. Superbly musically talented and a cracking frontwoman in Jacqui Neville, The Balconies are an inevitability.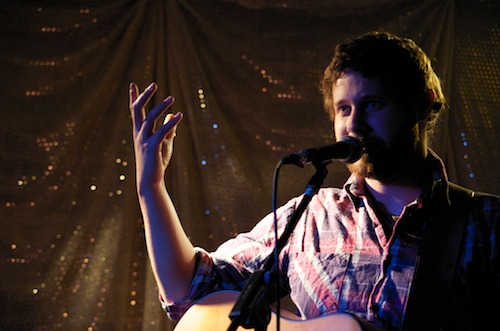 Dan Mangan
What a year it has been for Vancouver's Dan Mangan. The release of his "Nice, Nice, Very Nice" saw him garner praise on both sides of the pond, including artist of the year at the Verge XM awards, and Song of the Year and Best Vocals at the CBC Bucky Awards. The album will be released in the UK in 2010.
Canadian Album of the Year:
In 2009, but I think I've been so busy touring that I haven't been keeping up as well as I did before. Here are two albums from 2009 that stood out for me: Jenn Grant – Echoes
It was recorded on a farm with a small group of musicians – and it really shows.. There's quite a cohesiveness to the album, and it sounds similar throughout on behalf of the eclectic yet continuous use of certain instruments. Jenn's voice is amazing, and there are a handful of songs that melt you. "Where Are You Now" is one such song. Orchestral and lush, a really beautiful album. Vibe-y as hell.
Patrick Watson – Wooden Arms
Somehow this album is more accessible than the last one and also weirder. The tracks run together such that the songs become less important than the album as a whole, which I dig. It's like listening to Sigur Ros or Beirut in that you'd be hard pressed to remember a song title let alone pick one if somebody asked you what your favourite track was. I'm jealous as hell of his falsetto.
What record hasn't got the credit it deserved in 2009?
Corbin Murdoch & The Nautical Miles – Wartime Lovesong
I think the release was somewhat overlooked as everyone in the band has full-time arts-admin jobs back in Vancouver and it's hard for them to tour. Corbin is an absolute gem to the artistic community in Vancouver, where he facilitates youth programs for the Vancouver East Cultural Centre and cultivates all kinds of awesomeness for the cultural heritage of the city. He's also a killer songwriter and this album is just great. It sounds like contemporary alt-country with epic forefront horn arrangements and includes all kinds of local favourites like Jess Hill, Debra-Jean Creelman and Melissa Devost. It's like Wilco playing the score of Les Miserables with Michael Stipe singing lead after drinking a bottle and a half of good scotch. Makes you want to start a revolution.
Tip For 2010:
Yukon Blonde – I've been raving about this band for four years now. They used to be called Alphababy. They finally moved to Vancouver and got their act together and recorded a full length album after years of demo'ing and playing support gigs for Canada's indie-elites in their hometown of Kelowna, BC. I haven't heard the album but it's bound to be amazing. When they're on their game, they're also one of the best bands I've ever seen live.
Also – Aidan Knight. He's been bouncing around playing in a million bands for years in Victoria, BC – but he's got an album together of his own and everything he touches turns to gold. The dude is killer.
Jason Collett
A long time member of the Toronto music scene, this December has seen the 3rd annual installment of Jason's "Basement Review" shows, which has seen him performing songs from forthcoming album "Rat a Tat Tat".
Canadian Album of the Year:
Al Tuck Food For the Moon
What record hasn't got the credit it deserved in 2009?
Al Tuck – Why? Why did Neil Young and Joni Mitchell leave Canada? Why is L.A. the fourth largest population of Canadians? Al Tuck is the best songwriter in this country hands down! He's a living breathing national treasure and perhaps the reason we don't know it is because he hasn't left yet.
Tip for 2010
Zeus – This record drops in February. Just one of the three singers/multi-instrumentalists from this band would be a force to reckon with, but when you combine the savvy talents of all three on one record you have a triune god lobbing thunderbolts from on high. Besides, Neil Quin has the best rock'n'roll voice I've heard in twenty years.
Joel Gibb, The Hidden Cameras
Joel Gibb is the founder and frontman of the self proclaimed "Mild mannered army" that is The Hidden Cameras. This year saw the band release the "In the NA EP" and "Origin:Orphan" album to critical acclaim.
Canadian Album of the Year:
Really didn't pay much attention to new albums this year, but one record I was fortunate to acquire from the man himself was Doug Paisley's self-titled record. Simple and warm with some great songs.
What record hasn't got the credit it deserved in 2009?
Probably the new Kevin Blechdom – Gentlemania and also Mocky's latest "Saskamodie"
Tip for 2010:
Voting reform and Gay Goth.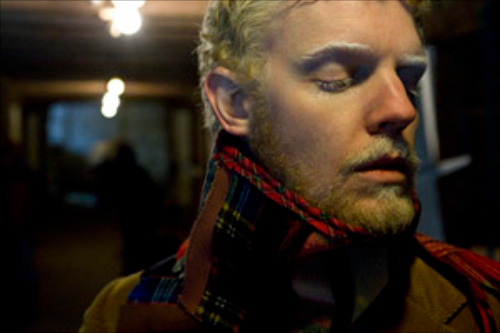 Gentleman Reg
2009 saw Gentleman Reg release "Jet Black" and the digital only "Heavy Head EP".  Look out for a track on a forthcoming edition of Oh! Canada!
Canadian Album of the Year:
The Organ, Thieves e.p.
What record hasn't got the credit it deserved in 2009?
Royal City, Royal City – A fantastic collection of previously unreleased material from a band who always deserved more attention then they received.
Tip for 2010:
Land of Talk – If the Fun And Laughter ep is any evidence, Elizabeth Powell's voice is back and she's ready for a big year.
Stephen Ramsey, Young Galaxy
Despite not coming through on their promise to release a song entitled "Cauldron of Jazz- Saga of the Barf Wolf" Young Galaxy released their anthemic "Invisible Republic" in September. Clearly it wasn't just the critics who enjoyed the record…
Canadian Album of the Year:
Ahem.. Invisible Republic?
What record hasn't got the credit it deserved in 2009?
Kill The Lights-Fog Area. They're another great Montreal band who flies under the radar even at home…
Tip for 2010:
Young Galaxy! The new album is being done in February with D. Lissvik of Studio producing. Think Kate Bush meets the Happy Mondays on top of Mt. Everest in a liqueur factory!
And Finally
Ro Cemm, Oh! Canada
Canadian Album of the Year:
Putting together this column together over this last year I have come across so many gems this was always going to be tough. I could really go with any of the decisions made by the others, but if I think Evening Hymns-"Spirit Guides" is the one I keep finding myself coming back to. Someone really needs to put that record out in the UK. That, and Dan Mangan's Nice Nice Very Nice get pretty high rotation where I live.
What record hasn't got the credit it deserved in 2009?
I thought The Weather Station's "The Line" was a gem of a record. I still hope more people may seek it out.
Tip for 2010:
Again, a tough one. I'm keen to hear new records from the new Acorn, Silver Mt Zion and Ghost Bees. As for debuts, the albums from The Wilderness of Manitoba and Hooded Fang are two I am particularly looking forward to.
More from Best Fit